Commercial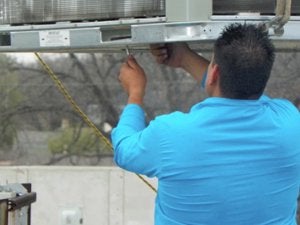 We offer service contracts on both new and existing HVAC systems helping your business achieve efficient use of your equipment. We perform routine, preventive maintenance and use the latest indoor quality test equipment to alert you to possible air quality concerns before they become serious issues. Our service technicians are factory trained and have the background and experience to maintain, diagnose and repair the most complicated systems including equipment that is old or even obsolete.
Our commercial services include:
Sales and installation of new equipment.
Planned maintenance on new and installed systems.
Roof top installation.
24 hour emergency service.
Contact us by phone: (210) 723-8998 to discuss your commercial heating and cooling requirements or request a free estimate.
Preventative Maintenance
Some of the many advantages of Preventive Maintenance are:
Maximum efficiency by maintaining, repairing, and tuning your equipment to optimum performance.
Same day service when you do have a problem.
Increased equipment life with scheduled visits and preventive maintenance procedures.
Consistent comfort levels by understanding and calibrating your mechanical system controls.
Improved building operations by anticipating your needs, and analyzing your systems.
Helps avoid costly down time and large unexpected repair bills.
Provides Peace of Mind that your system is operating at peak efficiency.
Commercial Ice Machine Maintenance
Our technicians work with many San Antonio businesses and have extensive experience servicing commercial ice machines. When servicing these ice machines, a number of considerations can help prevent problems or costly repairs that result in needless downtime for your company. Factors such as the quality and quantity of the ice machine's water supply, and the location of the equipment, can greatly impact performance and determine maintenance decisions.
As a family-owned and operated company, our standards are high. We want to provide the best, most knowledgeable service possible. We are trustworthy, honest, reliable and committed to each and every client. Commercial services provided by Alamo Xtreme AC & Heating, LLC includes a planned maintenance program beneficial to your business. The planned maintenance plan includes lubricating, cleaning, adjusting & aligning, calibration, reports, any repair and service. Available 24 / 7 / 365 to meet your needs.