Tips for your AC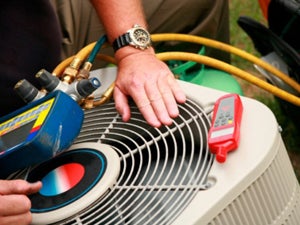 Delaying service on your HVAC system is like not changing the oil in your car. Sooner or later, something is going to break — and the longer you wait, the worse it's likely to be. Contact Us today!
One of the most common calls for service that we receive is: the AC is NOT Cooling or the AC is Blowing Hot AirTry these 4 easy steps to check before calling for service: 1. Check Thermostat, 2. Check Filters, 3. Check Drain Line, 4. Check Breakers
How to check the Thermostat. Make sure that the thermostat is placed on cooling. If the thermostat does not appear to be working properly, check the batteries in the thermostat and replace them if need be. If the thermostat appears dirty and needs cleaning, simply open the face of the thermostat and dust/wipe off dirt gently to not damage delicate parts. If the thermostat is working properly then lets go to check the filters
How do I check the Filters? First try to determine the last time the filters were changed. If it has been over 30 days, then YES it is time to change the filters. Dirty filters can cause your AC system to NOT cool or even blow hot air. The result of this would be icing the evaporator coil. So, changing filters on a monthly basis will prevent AC unit from breaking down. Call us (210) 723-8998 if the filters are too high up to reach and we will change them out for you.
How do I check the Drain Line? The drain line is located at the bottom of the evaporator coil. If you do not feel comfortable checking this feature, then call me at (210) 723-8998 and I will do this for you. Otherwise, Go to your unit and make sure that you do not see any water in your secondary pan.
How do I check the Breakers? Call us at (210) 723-8998 if you'd like. There are indoor and outdoor breakers. Make sure the breakers are not tripped for indoor or outdoor unit. Also, if these appear OK, then check the master breaker panel on the side of the house NOT in the garage.
If the issue in not resolved, then call us for service at (210) 723-8998. Here is a guide to help you determine AC replacement verses AC repair.
We are ready to provide you with a comfort plan custom designed to efficiently heat and cool your home. Need to replace your current AC system? Are your airducts in need of repair or replacement?
Our Values
Fair, flat-rate pricing
Licensed in the state of Texas
Excellent work in a timely manner
All employees drug and background checked
We service San Antonio and surrounding areas
Financing options available with low monthly payment options